Denne hjemmeside er en ressource tilegnet forskning i brugen af farve på skulptur og arkitektur i middelhavsområdet i Antikken. Vi håber også at skabe en bredere offentlig forståelse for studierne af antik polykromi.
Studiet af antik skulpturel og arkitektonisk polykromi er et internationalt forskningsområde. Det har i de seneste årtier tiltrukket sig stadig større opmærksomhed. På denne hjemmeside finder du en introduktion til området. Hjemmesiden indeholder information om forskningshistorien og en opdateret orientering om igangværende forskning. Brugere har adgang til en database over litteratur om antik polykromi og en database over antikke værker med bevarede spor af den oprindelige bemaling.
Transmission og Transformation: Ancient polychromy in an architectural context
Et tre-årigt interdisciplinært forskningsprojekt løbet indtil udgangen af 2016. Projektet er financieret af Carlsbergfondet.
White marble has generally been considered a typical image of antiquity. However, the lack of colour has no relation to ancient aesthetics. In fact, antiquity cultivated a veritable wealth of colours, but after centuries of deterioration, very little paint remains on the artefacts giving rise to the mistaken notion of white marble as a classical ideal. Yet the knowledge that ancient art was polychrome does not mark the end of polychromy research. On the contrary: Now research of ancient polychromy can continue acquiring a more comprehensive and detailed knowledge of how the ancient world was coloured and why. Besides the identification of pigments, this entails knowledge of e.g. technique, craftsmanship, and craft traditions. Postdoctoral fellow Cecilie Brøns is therefore heading up a new research project with a new grant from the Carlsberg Foundation – this time focusing on the colours of ancient architecture.
Projektet er interdisciplinært og inkluderer forskere indenfor arkæologi, filologi, konserveringsvidenskab, geologi, kemi og fysik. Projeket tager udgangspunkt i Ny Carlsberg Glyptoteks samlinger og fokuserer blandt andet på etruskiske arkitektoniske terrakottaer og det antikke syntetiske pigment egyptisk blå.
Klik her for en beskrivelse af projektet på Carlsbergfondets hjemmeside.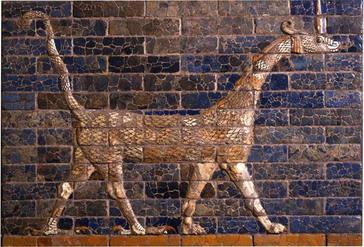 New publication in Heritage Science on the binding media and coatings of the Palace of Apries, Lower Egypt.
This study gives an account of the organic components (binders and coatings) found in the polychromy of some fragmented architectural reliefs from the Palace of Apries in Memphis, Egypt (26th Dynasty, ca. 589-568 BCE). Samples from the fragments were investigated using FTIR spectroscopy and GC–MS. The detection of polysaccharides in the paint layers on the capital and on two of the fragments indicates the use of plant gums as binding media. The interpretation of the sugar profiles was not straightforward so botanical classification was only possible for one fragment where the results of analysis seem to point to gum arabic. The sample from the same fragment was found to contain animal glue and a second protein material (possibly egg). While the presence of animal glue is probably ascribable to the binder used for the ground layer, the second protein indicates that either the paint layer was bound in a mixture of different binding materials or that the paint layer, bound in a plant gum, was then coated with a proteinaceous material. The surface of two of the investigated samples was partially covered by translucent waxy materials that were identified as a synthetic wax (applied during old conservation treatments) and as beeswax, respectively. It is possible that the beeswax is of ancient origin, selectively applied on yellow areas in order to create a certain glossiness or highlight specific elements.
The study is published in Heritage Science, open access:
Link to the article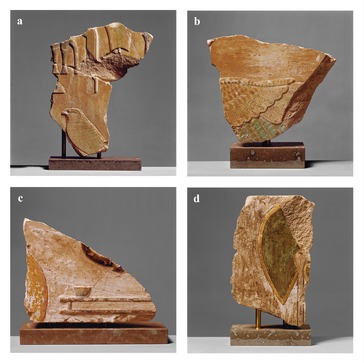 The 8th International Round Table
The 15th-16th of November we are participating in the 8th International Round Table on Polychromy in Ancient Sculpture and Architecture which is hosted by Centre de recherche et de restauration des musées de France (C2RMF) in Paris. The conference is followed by a two-day workshop on the past 20 years of research on ancient Greek and Roman terracottas. The research project constributes with two papers by Dr Alexandra Rodler and Signe Skriver Hedegaard respectively.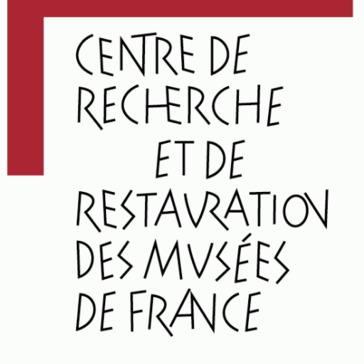 Proteomics and polychromy
The 14th-16th of September, Assistant professor, Dr Luise Ørsted Brandt went to the highly prestigious conference on biomolecular archaeology, ISBA7 in Oxford. Here Luise presented the first results on proteins extracted from paint binders from ancient polychrome architecture.
Several papers on the analysis of proteineous residues were presented at the conference and there is no doubt that this topic will be studied intensively in the future. Next month project director Dr Cecilie Brøns and Dr Luise Ørsted Brandt will participate in the kick-off of a new network on precisely this topic (TEMPERA, DNRFs Centre for GeoGenetics, Copenhagen) and its future research and thus the Ny Carlsberg Glyptotek is represented at the forefront of protein research and biomolecular archaeology.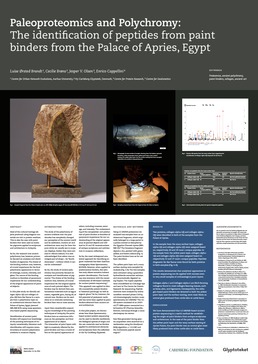 Presentation at the European Mineralogical Conference 2016
Dr Alexandra Rodler has recently represented the research project at the 2nd European Mineralogical Conference (EMC2016) in Rimini, Italy. Our contribution 'Provenance of Copper Used for Egyptian Blue Pigments of Ancient Mediterranean Artefacts' was presented on the 14th of September.
Article published in 'Etruscan Studies'
Our examinations of the polychromy of the Etruscan antefixes in the Ny Carlsberg Glyptotek has been published in the latest issue of Etruscan studies, vol. 19, issue 1, May 2016. The article is entitled 'Painted Faces: Investigations of Polychromy on Etruscan Antefixes in the Ny Carlsberg Glyptotek'.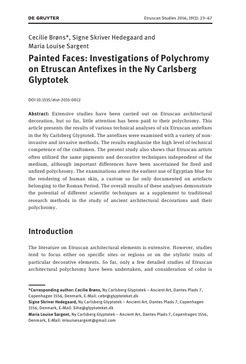 Guest lecture at the Danish Institute at Athens
Dr Cecilie Brøns and Signe Skriver Hedegaard have been invited to give a lecture on polychromy research at the Danish Institute at Athens. The lecture is entitled 'Transmission and Transformation: Ancient Polychromy in Sculpture and Architecture'. It will take place Monday the 23rd of May at 7 PM in the auditorium of the institute, Herefondos 14A, Plaka, Athens.